Product Description
This digital TENS machine is easy to use, lightweight and has 2 pre-set modes. It is ideal for numerous acute and chronic pain conditions.
The ultra-simple Easy TENS can be used with 4 pads. Simple and effective pain relief - plus great value for money.
Features and Benefits
Fast pain relief
2 preset modes
Easy to use
Compact and lightweight
Value for money
Large digital display
What's Included?
FREE Digital Download - An Easy Guide to Tens Pain Relief (Hard copy available for just £1.00)
Pack of 4 electrodes
Instructions
Dual leadwire
Soft pouch
2 x AAA batteries
Neck cord
Downloads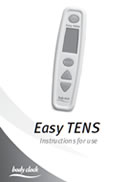 FlexiTENS
Instructions for use.
(0.17MB)
Technical details
Intensity
110 mA adjustable in 14 steps (500Ω load)
Waveform
Symmetrical mono-phasic rectangular
2 Modes

BURST
Pulse Rate: 32Hz, Pulse Width: 150µs,
Pattern: 2 burst per second
Burst 8 Pulses per second

BOOST: Pulse Rate: 70Hz, Pulse Width: 150µs,
Pattern: Constant Pulse

Channels
ONE
Output Voltage

0 - 55V (zero-to-peak) across
a 500Ω load; adjustable in 10 steps

Battery
2 X1.5V AAA Battery
Battery Low Detect
2.2V±0.1V
Auto Power Off
5 Minutes
Weight / Size
45g / 120 x 30 x 15mm
Output Jack
CE Touch-proof jacks
Tolerances

All output parameters are subjected to a +/-
10% tolerance unless other specified
Find Similar Products by Category